The ocean contains approximately 97% of Earth's water within a system of interconnected basins that cover 71% of its surface. Coastal systems mostly extend seaward from the high-water mark, or just beyond, to the edge of the continental shelf and include shores of soft sediments, rocky shores and reefs, embayments, estuaries, deltas and shelf systems. Oceanic systems comprise waters beyond the shelf edge, from ~200 m to nearly 11,000 m deep (Stewart and Jamieson, 2019), with an average depth of approximately 3700 m. The epipelagic zone, or upper 200 m of the ocean, is illuminated by sufficient sunlight to sustain photosynthesis that supports the rich marine food web. Below the epipelagic zone lies the barely lit mesopelagic zone (200–1000 m), the perpetually dark bathypelagic zone (depth >1000 m) and the deep seafloor (benthic ecosystems at depths >200 m), which spans rocky and sedimentary habitats on seamounts, mid-ocean ridges and canyons, abyssal plains and sedimented margins. Semi-enclosed seas (SES) include both coastal and oceanic systems.
The ocean sustains life on Earth by providing essential resources and modulating planetary flows of energy and materials. Together, harvests from the ocean and inland waters provide more than 20% of dietary animal protein for more than 3.3 billion people worldwide and livelihoods for about 60 million people (FAO, 2020b). The global ocean is centrally involved in sequestering anthropogenic atmospheric CO2 and recycling many elements, and it regulates the global climate system by redistributing heat and water (WGI AR6 Chapter 9; Fox-Kemper et al., 2021). The ocean also provides a wealth of aesthetic and cultural resources (Barbier et al., 2011), contains vast biodiversity (Appeltans et al., 2012), supports more animal biomass than on land (Bar-On et al., 2018) and produces at least half the world's photosynthetic oxygen (Field et al., 1998). Ecosystem services (Annex II: Glossary) delivered by ocean and coastal ecosystems support humanity by protecting coastlines, providing nutrition and economic opportunities (Figure 3.1; Selig et al., 2019) and providing many intangible benefits. Even though ecosystem services and biodiversity underpin human well-being and support climate mitigation and adaptation (Pörtner et al., 2021b), there are also ethical arguments for preserving biodiversity and ecosystem functions regardless of the beneficiary (e.g., Taylor et al., 2020). This chapter assesses the impact of climate change on the full spectrum of ocean and coastal ecosystems, on their services and on related human activities, and it assesses marine-related opportunities within both ecological and social systems to adapt to climate change.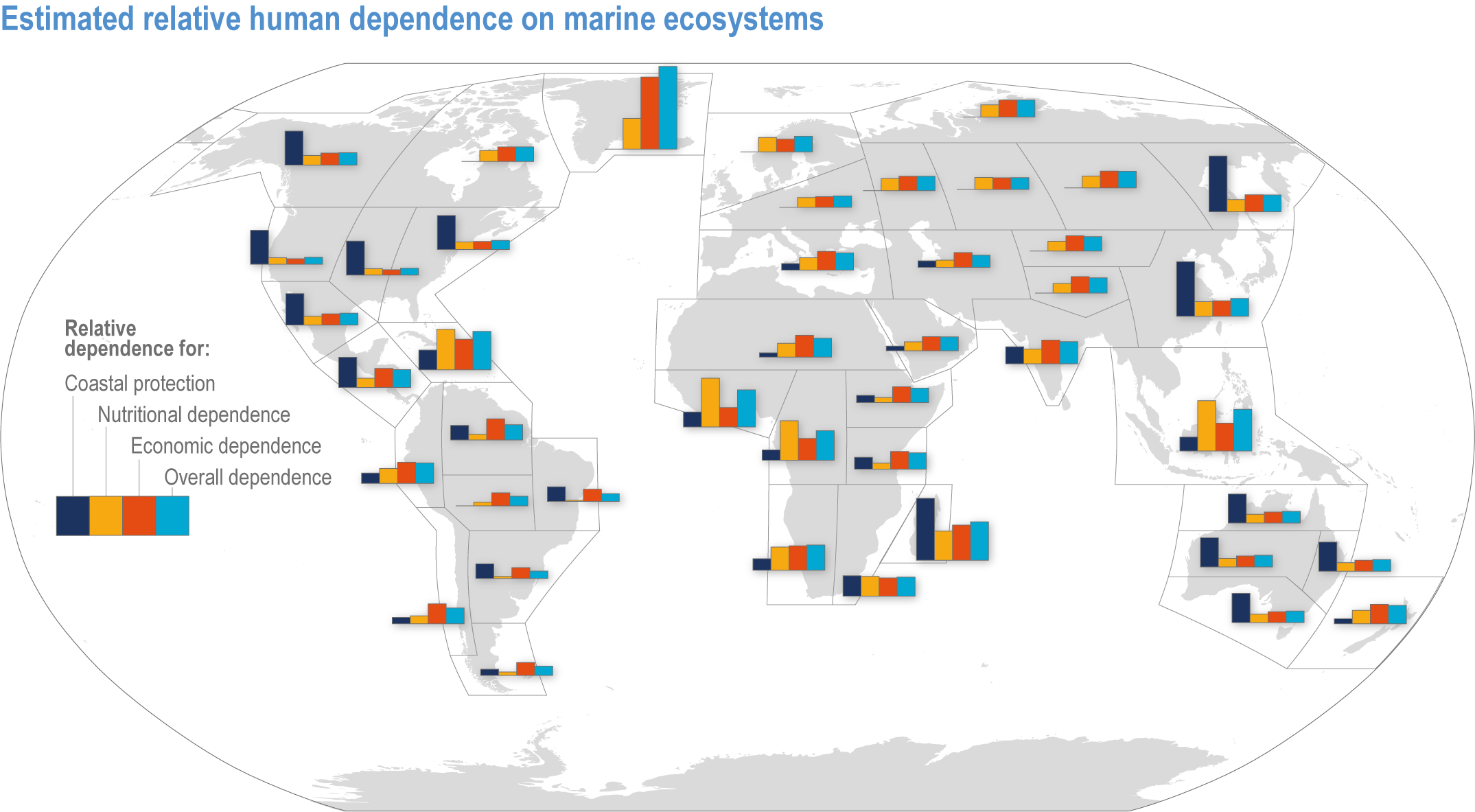 Figure 3.1 | Estimated relative human dependence on marine ecosystems for coastal protection, nutrition, fisheries economic benefits and overall. Each bar represents an index value that semi-quantitatively integrates the magnitude, vulnerability to loss and substitutability of the benefit. Indices synthesize information on people's consumption of marine protein and nutritional status, gross domestic product, fishing revenues, unemployment, education, governance and coastal characteristics. Overall dependence is the mean of the three index values after standardisation from 0–1. (Details regarding component indices are found in Table 1 and Supplementary Material of Selig et al., 2019.) The overall index does not include the economic benefits from tourism or other ocean industries, and data limitations prevented including artisanal or recreational fisheries or the protective impact of salt marshes (Selig et al., 2019). Values for reference regions established in the WGI AR6 Atlas (Gutiérrez et al., 2021) were computed as area-weighted means from original country-level data (Table S6 in Selig et al., 2019).
Previous IPCC Assessment Reports (IPCC, 2014b; IPCC, 2014c; IPCC, 2018; IPCC, 2019b) have expressed growing confidence in the detection of climate-change impacts in the ocean and their attribution to anthropogenic greenhouse gas emissions. Heat and CO2 taken up by the ocean (high to very high confidence) (IPCC, 2021b) directly affect marine systems, and the resultant "climatic impact-drivers (CIDs) (e.g., ocean temperature and heatwaves, sea level, dissolved oxygen levels, acidification; Annex II: Glossary, WGI Figure SPM.9; IPCC, 2021b) also influence ocean and coastal systems (Section 3.2; Cross-Chapter Box SLR in Chapter 3; Cross-Chapter Box EXTREMES in Chapter 2; Figure 3.SM.1), from individual biophysical processes to dependent human activities. Several marine outcomes of CIDs are themselves drivers of ecological change (e.g., climate velocities, stratification, sea ice changes). This chapter updates and extends the assessment of SROCC (IPCC, 2019b) and WGI AR6 by assessing the ecosystem effects of the CIDs in WGI AR6 Figure SPM.9 (IPCC, 2021b) and their biologically relevant marine outcomes (detailed in Section 3.2), which are referred to collectively hereafter as 'climate-induced drivers' .
Detrimental human impacts on ocean and coastal ecosystems are not only caused by climate. Other anthropogenic activities are increasingly affecting the physical, chemical and biological conditions of the ocean (Doney, 2010; Halpern et al., 2019), and these 'non-climate drivers ' also alter marine ecosystems and their services. Fishing and other extractive activities are major non-climate drivers in many ocean and coastal systems (Steneck and Pauly, 2019). Many activities, such as coastal development, shoreline hardening and habitat destruction, physically alter marine spaces (Suchley and Alvarez-Filip, 2018; Ducrotoy et al., 2019; Leo et al., 2019; Newton et al., 2020; Raw et al., 2020). Other human activities decrease water quality by overloading coastal water with terrestrial nutrients (eutrophication) and by releasing runoff containing chemical, biological and physical pollutants, toxins, and pathogens (Jambeck et al., 2015; Luek et al., 2017; Breitburg et al., 2018; Froelich and Daines, 2020). Some human activities disturb marine organisms by generating excess noise and light (Davies et al., 2014; Duarte et al., 2021), while others decrease natural light penetration into the ocean (Wollschläger et al., 2021). Several anthropogenic activities alter processes that span the land–sea interface by changing coastal hydrology or causing coastal subsidence (Michael et al., 2017; Phlips et al., 2020; Bagheri-Gavkosh et al., 2021). Atmospheric pollutants can harm marine systems or unbalance natural marine processes (Doney et al., 2007; Hagens et al., 2014; Lamborg et al., 2014; Ito et al., 2016). Organisms frequently experience non-climate drivers simultaneously with climate-induced drivers (Section 3.4), and feedbacks may exist between climate-induced drivers and non-climate drivers that enhance the effects of climate change (Rocha et al., 2015; Ortiz et al., 2018; Wolff et al., 2018; Cabral et al., 2019; Bowler et al., 2020; Gissi et al., 2021). SROCC assessed with high confidence that reduction of pollution and other stressors, along with protection, restoration and precautionary management, supports ocean and coastal ecosystems and their services (IPCC, 2019b). This chapter examines the combined influence of climate-induced drivers and primary non-climate drivers on many ecosystems assessed.
Detecting changes and attributing them to specific drivers has been especially difficult in ocean and coastal ecosystems because drivers, responses and scales (temporal, spatial, organisational) often overlap and interact (IPCC, 2014b; IPCC, 2014c; Abram et al., 2019; Gissi et al., 2021). In addition, some marine systems have short, heterogeneous or geographically biased observational records, which exacerbate the interpretation challenge (Beaulieu et al., 2013; Christian, 2014; Huggel et al., 2016; Benway et al., 2019). It is even more challenging to detect and attribute climate impacts on marine-dependent human systems, where culture, governance and society also strongly influence observed outcomes. To assess climate-driven change in natural and social systems robustly, IPCC reports rely on multiple lines of evidence, and the available types of evidence differ depending on the system under study (Section 1.3.2.1, Cross-Working Group Box ATTRIB). Lines of evidence used for ocean and coastal ecosystems for this and previous assessments include observed phenomena, laboratory and field experiments, long-term monitoring, empirical and dynamical model analyses, Indigenous knowledge (IK) and local knowledge (LK), and paleorecords (IPCC, 2014b; IPCC, 2014c; IPCC, 2019b). The growing body of climate research for ocean and coastal ecosystems and their services increasingly provides multiple independent lines of evidence whose conclusions support each other, raising the overall confidence in detection and attribution of impacts over time (Section 1.3.2.1, Cross-Working Group Box ATTRIB in Chapter 3).
Natural adaptation to climate change in ocean and coastal systems includes an array of responses taking place at scales from cells to ecosystems. Previous IPCC assessments have established that many marine species 'have shifted their geographic ranges, seasonal activities, migration patterns, abundances and species interactions in response to climate change' (high confidence) (IPCC, 2014b; IPCC, 2014c), which has had global impacts on species composition, abundance and biomass, and on ecosystem structure and function (medium confidence) (IPCC, 2019b). Warming and acidification have affected coastal ecosystems in concert with non-climate drivers (high confidence), which have affected habitat area, biodiversity, ecosystem function and services (high confidence) (IPCC, 2019b). Confidence has grown in these assessments over time as observational datasets have lengthened and other lines of evidence have corroborated observations. AR5 and SROCC assessed how physiological sensitivity to climate-induced drivers is the underlying cause of most marine organisms' vulnerability to climate (high confidence) (Pörtner et al., 2014; Bindoff et al., 2019a). Since those assessments, more evidence supports the empirical physiological models of tolerance and plasticity (Sections 3.3.2, 3.3.4) and of interactions among multiple (climate and non-climate) drivers at individual to ecosystem scales (Sections 3.3.3, 3.4.5). New experimental evidence about evolutionary adaptation (Section 3.3.4) bolsters previous assessments that adaptation options to climate change are limited for eukaryotic organisms. Tools such as ecosystem models can now constrain probable ecosystem states (Sections 3.3.4, 3.3.5, 3.4). Observations have increased understanding of how extreme events affect individuals, populations and ecosystems, helping refine understanding of both ecological tolerance to climate impacts and ecological transformations (Section 3.4).
Human adaptation to climate impacts on ocean and coastal systems spans a variety of actions that change human activity to maintain marine ecosystem services. After AR5 concluded that coastal adaptation could reduce the effects of climate impacts on coastal human communities (high agreement , limited evidence) (Wong et al., 2014), SROCC confirmed that mostly risk-reducing ocean and coastal adaptation responses were underway (Bindoff et al., 2019a). However, overlapping climate-induced drivers and non-climate drivers confound implementation and assessment of the success of marine adaptation, revealing the complexity of attempting to maintain marine ecosystems and services through adaptation. SROCC assessed with high confidence that while the benefits of many locally implemented adaptations exceed their disadvantages, others are marginally effective and have large disadvantages, and overall, adaptation has a limited ability to reduce the probable risks from climate change, being at best a temporary solution (Bindoff et al., 2019a). SROCC also concluded that a portfolio of many different types of adaptation actions, effective and inclusive governance, and mitigation must be combined for successful adaptation (Bindoff et al., 2019a). The portfolio of adaptation measures has now been defined (Section 3.6.2), and individual and combined adaptation solutions have been implemented in several marine sectors (Section 3.6.3). Delays in marine adaptation have been partly attributed to the complexity of ocean governance (Section 3.6.4; Cross-Chapter Box 3 and Figure CB3.1 in Abram et al., 2019) and to the low priority accorded the ocean in international development goals (Nash et al., 2020), but in recent years the ocean is being increasingly incorporated in international climate policy and multilateral environmental agreements (Section 3.6.4).
This chapter assesses the current understanding of climate-induced drivers, ecological vulnerability and adaptability, risks to coastal and ocean ecosystems, and human vulnerability and adaptation to resulting changes in ocean benefits, now and in the future (Figure 3.2). It starts by assessing the biologically relevant outcomes of anthropogenic climate-induced drivers (Section 3.2). Next, it sets out the mechanisms that determine the responses of ocean and coastal organisms to individual and combined drivers from the genetic to the ecosystem level (Section 3.3). This supports a detailed assessment of the observed and projected responses of coastal and ocean ecosystems to these hazards, placing them in context using the paleorecord (Section 3.4). These observed and projected impacts are used to quantify consequent risks to delivery of ecosystem services and the socioeconomic sectors that depend on them, with attention to the vulnerability, resilience and adaptive capacity of social–ecological systems (Section 3.5). The chapter concludes by assessing the state of adaptation and governance actions available to address these emerging threats while also advancing human development (Section 3.6). Abbreviations used repeatedly in the chapter are defined in Table 3.1.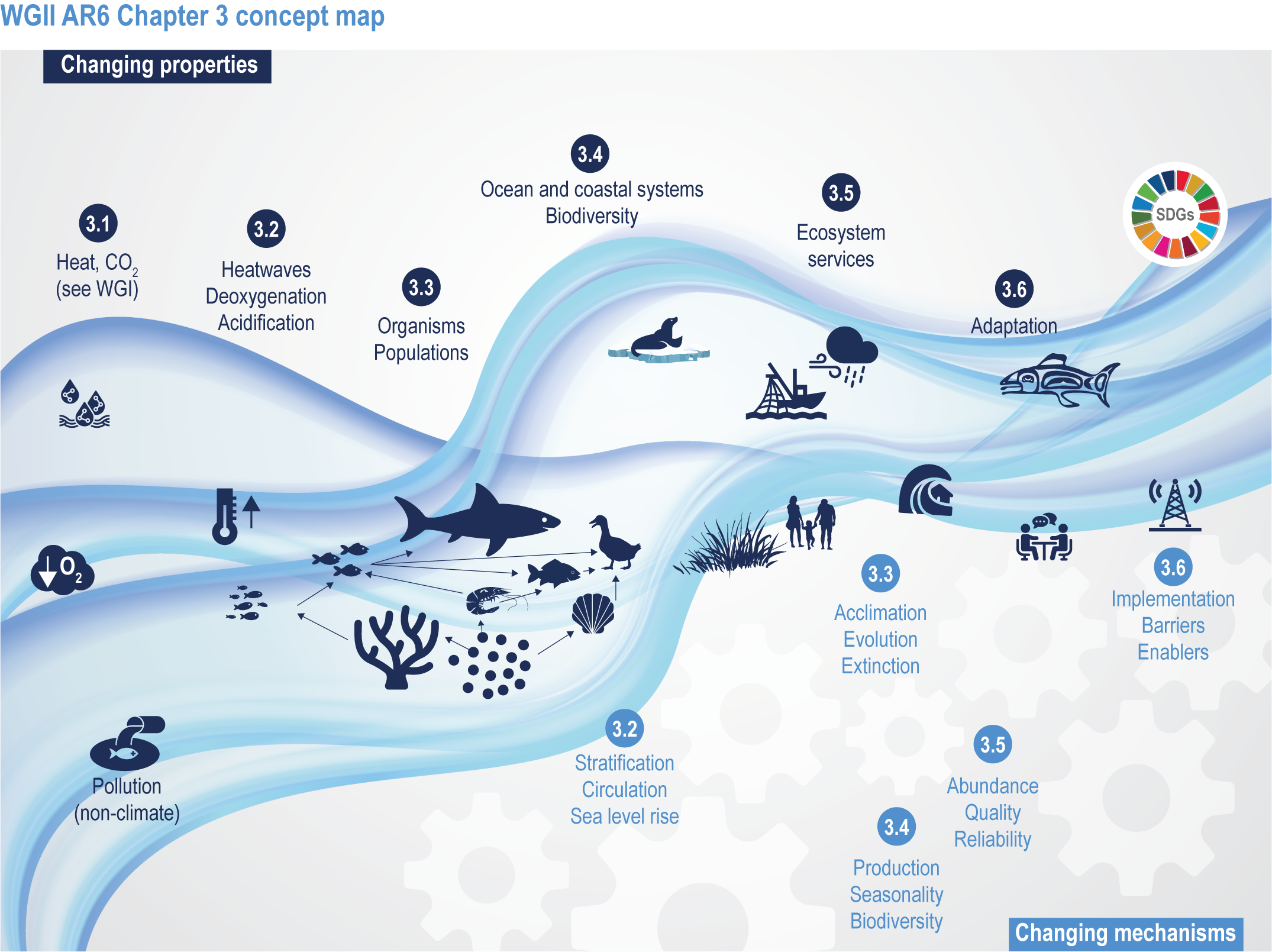 Figure 3.2 | WGII AR6 Chapter 3 concept map. Climate changes both the properties (top of wave; Sections 3.1–3.6) and the mechanisms (below wave; Sections 3.2–3.6) that influence the ocean and coastal social–ecological system. The Sustainable Development Goals (top right) represent ideal outcomes and achievement of equitable, healthy and sustainable ocean and coastal social–ecological systems.
Table 3.1 | Abbreviations frequently used in this chapter, with brief definitions
| | |
| --- | --- |
| Abbreviation | Definition |
| ABNJ | Areas beyond national jurisdiction: the water column beyond the exclusive economic zone called the high seas and the seabed beyond the limits of the continental shelf; established in conformity with United Nations Convention on the Law of the Sea |
| AMOC | Atlantic meridional overturning circulation (WGI AR6 Glossary, IPCC, 2021a) |
| AR5 | The IPCC Fifth Assessment Report (IPCC, 2013; IPCC, 2014b; IPCC, 2014c; IPCC, 2014d) |
| CBD | Convention on Biological Diversity: an international legal instrument that has been ratified by 196 nations to conserve biological diversity, sustainably use its components and share its benefits fairly and equitably |
| CE | Common era |
| CID | Climatic impact-driver (WGI AR6 Glossary, IPCC, 2021a) |
| CMIP5, CMIP6 | The Coupled Model Intercomparison Project, Phase 5 or 6 (WGI AR6 Glossary, IPCC, 2021a) |
| EbA | Ecosystem-based adaptation: the use of ecosystem management activities to increase the resilience and reduce the vulnerability of people and ecosystems to climate change |
| EBUS | Eastern boundary upwelling system (WGI AR6 Glossary, IPCC, 2021a) |
| EEZ | Exclusive economic zone: the area from the coast to 200 nautical miles (370 km) off the coast, where a nation exercises its sovereign rights and exclusive management authority |
| ESM | Earth system model: a coupled atmosphere–ocean general circulation model (AOGCM, WGI AR6 Glossary, IPCC, 2021a) in which a representation of the carbon cycle is included, allowing for interactive calculation of atmospheric CO2 or compatible emissions |
| Fish-MIP | The Fisheries and Marine Ecosystem Model Intercomparison Project: a component of the Inter-Sectoral Impact Model Intercomparison Project (ISIMIP) that explores the long-term impacts of climate change on fisheries and marine ecosystems using scenarios from CMIP models |
| GMSL/GMSLR | Global mean sea level/global mean sea level rise (sea level change, WGI AR6 Glossary, IPCC, 2021a) |
| HAB | Harmful algal bloom: an algal bloom composed of phytoplankton known to naturally produce biotoxins that are harmful to the resident population as well as humans |
| ICZM | Integrated coastal zone management: a dynamic, multidisciplinary and iterative process to promote sustainable management of coastal zones (European Environmental Agency) |
| IKLK | Indigenous knowledge and local knowledge (SROCC Glossary, IPCC, 2019a) |
| MHW | Marine heatwaves (WGI AR6 Glossary, IPCC, 2021a) |
| MPA | Marine protected area: an area-based management approach, commonly intended to conserve, preserve or restore biodiversity and habitat, protect species or manage resources (especially fisheries) |
| NbS | Nature-based Solution: actions to protect, sustainably manage and restore natural or modified ecosystems that address societal challenges effectively and adaptively, simultaneously providing human well-being and biodiversity benefits (IUCN, 2016) |
| NDC | Nationally determined contribution by parties to the Paris Agreement |
| NPP | Net primary production: the difference between how much CO2 vegetation takes in during photosynthesis (gross primary production) and how much CO2 the plants release during respiration |
| OECM | Other effective area-based conservation measures: a conservation designation for areas that are achieving the effective in situ conservation of biodiversity outside of protected areas |
| OMZ | Oxygen minimum zone (WGI AR6 Glossary, IPCC, 2021a) |
| pCO2 | Partial pressure of carbon dioxide. For seawater, pCO2 is used to measure the amount of carbon dioxide dissolved in seawater. |
| pH | Potential of hydrogen (WGI AR6 Glossary, IPCC, 2021a) |
| POC | Particulate organic carbon: a fraction of total organic carbon operationally defined as that which does not pass through a filter pore size ≥ 0.2 µm |
| SDG | Sustainable Development Goals: the 17 global goals for development for all countries established by the United Nations through a participatory process and elaborated in the 2030 Agenda for Sustainable Development |
| SES | Semi-enclosed sea: a gulf, basin or sea surrounded by land and connected to another sea by a narrow outlet |
| SIDS | Small Island Developing States (WGI AR6 Glossary, IPCC, 2021a) |
| SLR/RSLR/RSL | Sea level rise/relative sea level rise/relative sea level (sea level change, WGI AR6 Glossary, IPCC, 2021a) |
| SR15 | The IPCC Special Report on 1.5°C (IPCC, 2018) |
| SROCC | The IPCC Special Report on the Ocean and Cryosphere in a Changing Climate (IPCC, 2019b) |
| SSP/RCP | Shared Socioeconomic Pathway/Representative Concentration Pathway (Pathways; IPCC, 2021a) |
| SST | Sea surface temperature (WGI AR6 Glossary, IPCC, 2021a) |
| Ωaragonite | Saturation state of seawater with respect to the calcium carbonate mineral aragonite, used as a proxy measurement for ocean acidification |