Limiting global warming to 2°C or below requires a rapid shift away from unabated coal consumption – coal without CCS – in the energy system by 2050 (IPCC 2018 a; Section 6.7; Chapter 3). This will require cancellation of new coal power projects and accelerated retirement of existing coal plants (Edenhofer et al. 2018; Kriegler et al. 2018; Pfeiffer et al. 2018; Smith et al. 2019; Tong et al. 2019). To limit warming to 2°C or lower, and without new builds, existing coal plants will need to retire 10 to 25 years earlier than the historical average operating lifetime. Completing all planned projects will further reduce the viable lifetime of all plants by 5 to 10 years if warming is to be limited to 2°C or lower (Cui et al. 2019). Phasing-out coal in the next few decades will present economic, social, and security challenges. These will vary across regions based on the characteristics of existing coal infrastructure, the availability of alternatives, economic development, and technological and institutional lock-in (Jakob et al. 2020).
Box 6.2, Figure1 | Retirement of coal-fired power plants to limit warming to 1. 5°C and 2°C or lower. (a) Historical facility age at retirement, (b) the vintage year of existing units, (c) global coal capacity under different plant lifetimes, compared to capacity levels consistent with a well-below 2°C (green) and 1.5°C (blue) pathway assuming no new coal plants, and (d) and assuming plants currently under construction come online as scheduled, but those in planning or permitting stages are not built. Source: with permission from Cui et al. (2019).
Between 2015 and 2019, global coal power capacity grew by 146 GW, or 7.6%, as new builds offset retirements in some countries (Global Energy Monitor et al. 2021). Meanwhile, an increasing number of countries and regions have committed to or operationalised coal phase-outs (Jewell et al. 2019; Watts et al. 2019; Littlecott et al. 2021). Actions are being taken by various international and sub-national actors, including national and sub-national governments, public and private power companies, and financial institutions and pension funds that have committed not to fund new coal or coal-based infrastructure (yan Nie et al. 2016; Buckley 2019; Auger et al. 2021). Although these initial efforts are not yet sufficient in limiting warming to 1.5°C, and most have occurred in regions with older coal fleets, these examples provide insight into possible coal phase-out strategies (Spencer et al. 2018) and help identify the mechanisms driving the move away from coal, such as market, technology, policy, or other societal objectives. They also enable better understanding of the possible character of oil and gas phase-downs that would ultimately be needed to limit warming two well below 2°C (Section 6.7.4) (Raimi et al. 2019).
Europe. Several European countries are part of the Powering Past Coal Alliance (PPCA) and have committed to phase out unabated coal on or before 2030 (Jewell et al. 2019). Because these countries represent a small share of global coal generation capacity and have mostly ageing coal plants, they tend to face fewer changes in phasing out coal. The effectiveness of PPCA in countries with younger coal fleets has thus been questioned (Jewell et al. 2019; Blondeel et al. 2020). Germany recently joined the PPCA and has committed to phase out unabated coal by 2038. As part of its commitment to phase out coal, Germany is implementing a set of measures that include compensation for power plant closures, labour market measures for coal workers, and substantial support of structural change in coal-mining regions. Poland, another coal-heavy country in Europe, has not indicated a coal phase-out target and faces substantial challenges (Whitley et al. 2017; Antosiewicz et al. 2020). European efforts to phase out coal indicate that appropriate financial instruments are needed (Rentier et al. 2019), and a just transition for workers are important to gain broad public support and help those most affected by the phase-out (Johnstone and Hielscher 2017; Osička et al. 2020).
North America. Coal use has been declining in North America. In the USA, the primary driver has been the availability of cheap shale gas and ageing coal fleets. Coal use in the USA has dropped by over 50% since 2008 (EIA 2019). The recently announced Nationally Determined Contribution (NDC) by the Biden Administration sets a 100% carbon-free electricity goal by 2035 (The White House 2021), indicating a phase-out not only of unabated coal electricity generation, but also of natural gas generation. As one of the two founding countries of the PPCA, Canada has committed to phasing out unabated coal power by 2030 (Government of Canada 2018). Declining coal use in both the USA and Canada has decreased GHG emissions, local air pollutants, and cooling water use (Harris et al. 2015; Kondash et al. 2019). However, there have been concerns about social and economic consequences, particularly at the local level. For instance, the USA has lost about 50,000 coal mining jobs between 2011 and 2021 (US Bureau of Labor Statistics, 2021), with significant regional and economic inequities (Bodenhamer 2016; Abraham 2017; Greenberg 2018). Comprehensive social programmes, such as retirement compensation, training for reemployment, and business support for economic diversification, have been suggested as means to support a just transition (Homagain et al. 2015; Patrizio et al. 2018; Grubert 2020).
Asia. After a period of rapid growth, coal expansion has slowed in Asia, but it still the primary driver of the global increase in coal demand (IEA 2020e). China's coal consumption reached a plateau under policy efforts during the 13th Five-Year Plan (2016–2020), and new coal plants are being built at a slower rate than previously. Both China and India have suspended and cancelled many new coal power projects and retired a small set of old, dirty, inefficient coal plants (CEA 2019; Global Energy Monitor et al. 2021). These efforts are largely due to non-climate reasons, such air pollution and health (Singh and Rao 2015; Gass et al. 2016; Peng et al. 2018; Malik et al. 2020), overcapacity (Blondeel and Van de Graaf 2018), and rural electrification and renewable investments (Aklin et al. 2017; Thapar et al. 2018). However, as new builds offset retirements, coal generation capacity has continued to grow in both countries since 2015 (Global Energy Monitor et al. 2021). Other fast-growing Southeast Asian countries, such as Indonesia, Vietnam, and the Philippines have experienced strong growth in coal use (IEA 2020b), but an increasing number of new coal power projects are being cancelled (Littlecott et al. 2021). Coal projects in these countries are decreasingly likely to proceed because they rely on international financing, and China, Japan, USA, and other G7 countries have pledged to end overseas coal financing (Schiermeier 2021).
Africa. New coal power projects in Africa have been declining since 2016, with only South Africa and Zimbabwe currently building new coal plants and several others with planned projects (Littlecott et al. 2021). However, these projects also largely depend on international financing and are thus less likely to be implemented (see above). In South Africa, employment in the coal mining sector has dropped by almost half since the 1980s and has been estimated to fall from 77,000 today to 22,000 to 42,000 by 2050 (Cock 2019; Strambo et al. 2019). Policy and financial support are essential to ensure a sustainable transition for these workers (Swilling et al. 2016).
Solar and wind energy have grown dramatically, but global shares remain low relative to other sources
Global PV and wind electric capacities grew 170% and 70%, respectively, between 2015 and 2019. Total solar and wind capacities in 2019 were 609 GW and 623 GW (Figure 6.6) and generation was 680 TWh yr –1 and 1420 TWh yr –1. The combined share of solar and wind in the total global electricity generation in 2019 was around 8% (5.5% wind, 2.5% solar), up from around 5% in 2015 (IEA 2021a). Since 2015, the cost of solar PVs has declined by over 60%. Offshore wind costs have fallen by 32%, and onshore wind costs have fallen by 23% (Section 6.4). PV was around 99% of total solar capacity in 2019; onshore wind was about 95% of total wind capacity. Concentrating solar power (CSP) deployment has also continued to grow, but it remains far below PV. Prior to 2010, 50% of all wind capacity was in Europe, but since then, capacity growth in Asia (led by China), has surpassed the growth in Europe. As a consequence, Europe's share in global solar capacity has declined from 74% in 2010 to 24% in 2019. Asia's share in wind and solar capacity in 2019 was 41% and 56%, followed by Europe (31% and 24%) and North America (20% and 12%) (IRENA 2020a, 2021a).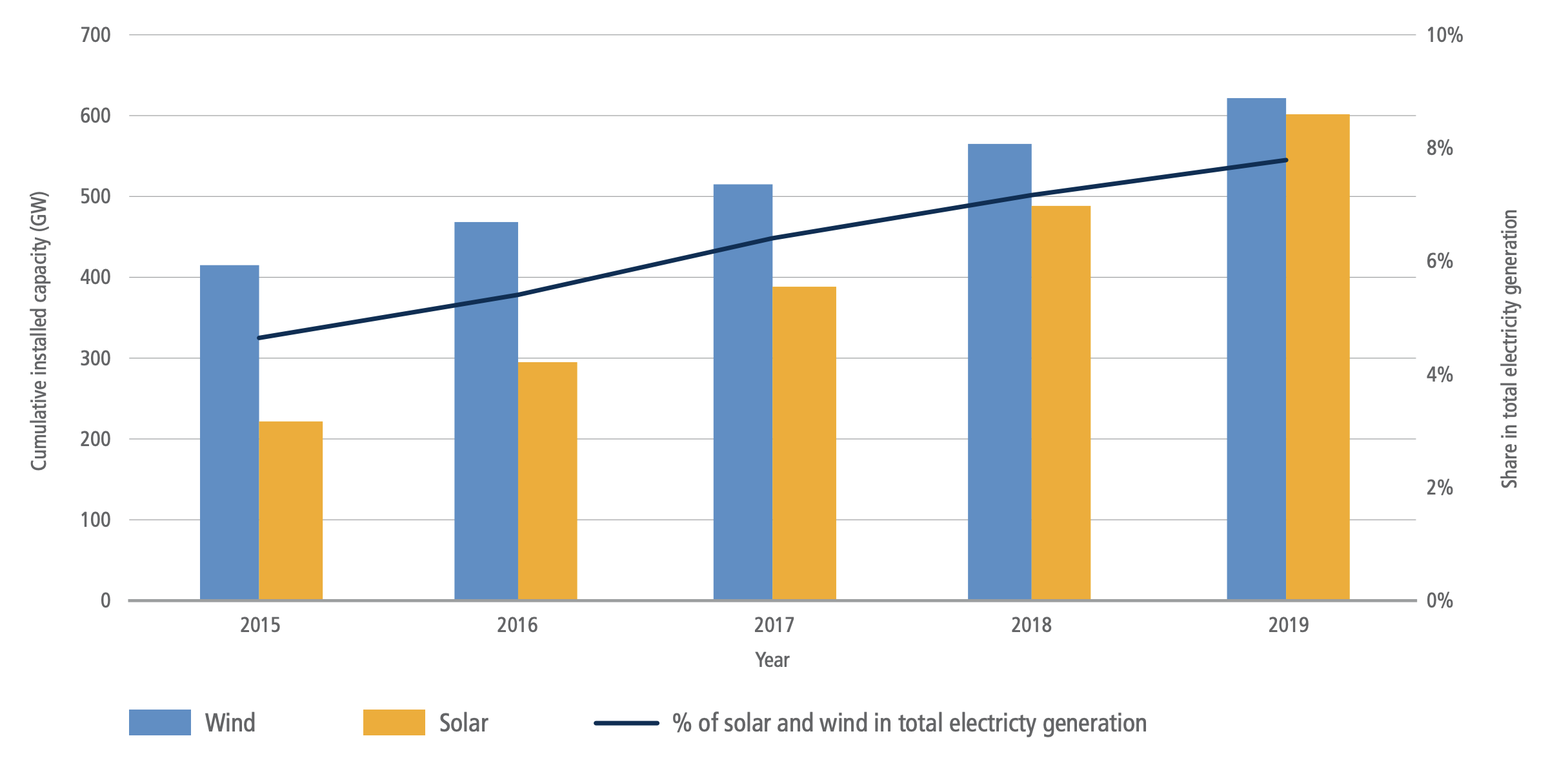 Figure 6.6 | Global solar and wind electricity installed capacities (GW) from 2015–2019 and their combined share in total electricity generation. Source: data from IEA (2021a) and IRENA (2021).
Although the shares of wind and solar remain low in the global total electricity generation, recent growth rates signal the potential for these technologies to support substantial mitigation. The prospects for a continuation of recent growth rates will depend on meeting key challenges such as rapidly integrating wind and solar into electricity grids (Section 6.6.2, Box 6.8) and retiring fossil power plants (see above).
Low-carbon energysources beyond wind and solar have continued to grow
Low-carbon energysources such as nuclear, hydropower, bioenergy, geothermal, marine, and fossil or bioenergy with carbon capture, use and storage (CCUS) have continued to grow since 2015 (IEA 2017, 2021a). Hydroelectric power grew from 3890 TWh yr –1 (14.0 EJ yr –1) in 2015 to 4290 TWh yr –1 (15.5 EJ yr –1) in 2019, or 10.3%; nuclear power grew from 2570 TWh yr –1 (9.3 EJ yr –1) to 2790 TWh yr –1 (10.1 EJ yr –1), or 8.6%. Hydroelectric and nuclear shares in global total electricity generation remained around 16% and 10%, respectively (IEA 2017, 2021a). Global biofuels production grew from 3.2 EJ yr –1 to 4.0 EJ yr –1 from 2015 to 2019 (IEA 2017, 2021a). Bioenergy accounted for 2.4% of electricity generation in 2019. Geothermal energy sources produced 92 TWh yr –1 (0.33 EJ yr –1) of electricity in 2019, up from 80 TWh yr –1 (0.28 EJ yr –1) in 2015 (IEA 2017, 2021a). At present, there are 28 commercially operating CCUS facilities with a CO2 removal capacity of around 40 million tonnes yr –1 (Mtpa). Only two of these are associated with electricity production: the majority are in industrial applications – 37 commercial projects, accounting for about 75 Mtpa, are in various stages of development and construction (Global CCS Institute 2020). The share of marine energy in global electricity generation has remained at approximately 1 TWh yr –1 since 2015. In total, low- and zero-carbon electricity generation technologies produced 37% of global electricity in 2019.
Battery prices have dropped substantially, spurring deployment in electricity and transportation
Recent years have seen a rapid decline in the cost of energy storage, particularly batteries (Section 6.4.4). The price of lithium-ion batteries (LIBs) has declined by 97% in the past three decades, and by 90% in the past decade alone (IEA 2021a; Ziegler and Trancik 2021). These declines have important implications for the energy systems, most notably in supporting increased deployment of variable renewable energy (VRE) generation and electrification of the vehicle fleet.
Battery electricity storage has emerged as important for supporting the flexibility of electricity systems as they accommodate rising shares of VRE. Although pumped-storage hydropower systems accounted for 160 GW, or over 90%, of total energy storage capacity in 2019 (IEA 2020c), battery energy storage systems, led by LIB technology, have accounted for over 90% of new capacity addition since 2015 (IRENA 2019a). In 2019, 10 GW of batteries were connected at the grid and consumer level, rising from 0.6 GW in 2015 (IEA WEO 2019; IEA 2020c).
In California in the USA, legislation was passed to procure around 1.3 GW energy storage (excluding pumped storage) by 2020. One of the largest utility-scale battery storage facilities (300 MW) recently went online in California (Vistra Corp. 2021). Other major projects are in Florida in the USA (409 MW), London in the UK (320 MW), Lithuania (200 MW), Australia (150 MW), Chile (112 MW) and Germany (90 MW), (IRENA 2019a; ARENA 2020; Katz 2020).
The drop in battery prices has also had important implications in the transportation sector. Automotive LIB production rose from around 40 GWh in 2015 to 160 GWh in 2020 (32%). The stock of battery electric vehicles (BEVs) grew from around 0.7 million in 2015 to 4.8 million in 2019 (IEA 2020d). The number of publicly accessible vehicle chargers reached 1.3 million in 2020, 30% of which were fast chargers. The average battery size of BEVs reached 67 kWh in 2019 due to consumer preferences and government incentives for long-range vehicles (Agency 2020; IEA 2021b).
The energy policy landscape continues to evolve
The current energy sector policy landscape consists of policy mixes or policy packages, including regulatory, market-based and other approaches. These mixes have evolved over time and include many sectoral but also some economy-wide policy instruments, such as carbon pricing subsidies.
Governments have chosen a mix of policies and institutional mechanisms that consists of regulatory instruments, like efficiency and technology standards, economic instruments (e.g., carbon pricing, subsidies) (Bertram et al. 2015; Martin and Saikawa 2017) and other policies, such as government interventions to provide infrastructure, information policies, and voluntary actions by non-government actors (Somanathan et al. 2014). In recent years, regulatory instruments to promote low-carbon infrastructure have gained traction in developing countries (Finon 2019). The choice of policies has depended on institutional capacities, technological maturity and other developmental priorities of governments. For example, governments have favoured regulatory instruments over economic instruments when there has been sufficient institutional capacity to implement and monitor the regulations and standards (Hughes and Urpelainen 2015). Furthermore, institutional capacity has also determined the extent of implemented measures (Adenle et al. 2017). Market conditions and technological maturity are other important determinants of policy mixes being deployed in the energy sector. For example, subsidies for mitigation like feed-in-tariffs have worked best when the technologies are in nascent stages of development (Gupta et al. 2019a).
On the other hand, market-based instruments like emissions rading schemes (ETS) and auctions coupled with a regulatory framework have been a favourable strategy for more mature technologies (Polzin et al. 2015; Kitzing et al. 2018). FIT, tax incentives, and renewable portfolio standards – despite potentially substantial programme costs (Andor and Voss 2016; Abrell et al. 2019) – have played a significant role in attracting foreign direct investments in the renewable sector (Wall et al. 2019). Subsidies and carbon pricing have also played an important role in mainstreaming these renewable energy sources (Best and Burke 2018). Recently, subsidy-free investments in renewables, such as wind offshore (Jansen et al. 2020), backed by power purchase agreements, have gained momentum (Frankfurt School-UNEP Centre and BNEF 2020). Similar considerations apply for policy mixes targeted to other sectors – for example, transport and buildings.
The role of carbon pricing is still limited though increasing. Different measures have been suggested to improve the performance of the ETS, such as 'price floors and caps' and other carbon pricing schemes (Campiglio 2016; Bataille et al. 2018; Goulder and Morgenstern 2018). In 2020, 61 regional, national and sub-national carbon pricing instruments, representing 22% of the global GHG emissions, were in action or scheduled for implementation (World Bank 2019). Over 51% of emissions covered are priced at less than USD10 per tCO2-eq. At present, however, only 5% of the global emissions covered under carbon pricing initiatives are consistent with the range of carbon prices that have been suggested as needed to limit warming to well below 2°C (Stiglitz and Stern 2017). Most of the carbon pricing schemes have taken place in the OECD countries. The limited application of carbon pricing instruments in developing, and emerging economies may be due to political economy constraints (Campiglio 2016; Finon 2019). Carbon pricing had a sizeable impact on emissions – for example, the EU ETS impacts emissions from electricity in Germany (Schäfer 2019) and manufacturing in France (Colmer et al. 2020), respectively. Emissions reductions could be increased with higher carbon prices and without free allocation of allowances.
In the absence of a global comprehensive carbon price, regional regulatory policies for fossil fuels supply and key demand sectors like transport, industry and buildings (Chapters 9–11), coupled with regional carbon pricing instruments, were implemented to help initiate the climate actions consistent with the Paris Agreement (Kriegler et al. 2018). However, differences in the stringency of climate regulation have triggered fear that regulation reduces the competitiveness of industries in regulated countries and leads to industry relocation and 'carbon leakage' (Schenker et al. 2018). In recent years, however, there is little evidence of carbon leakage (Naegele and Zaklan 2019; Schäfer 2019), and even positive effects of carbon pricing on efficiency have been observed (e.g., Löschel et al. 2019, for German manufacturing firms, and Germeshausen 2020 for German power plants). However, with asymmetric rising carbon prices, discussions about specific policy mechanisms to address carbon leakage like carbon border adjustments (Cosbey et al. 2019) were amplified. Furthermore, multiple policies – often implemented by different governmental levels (national vs sub-national) – interacted with each other and thereby affected their environmental and economic effectiveness. Recent examples include interactions of ETS with renewable support policies (e.g. Boehringer and Behrens 2015; Del Rio 2017), energy efficiency policies (e.g. Wiese et al. 2018) or electricity market reform (e.g. Teng et al. 2017), respectively.
Apart from explicit carbon pricing, various implicit carbon pricing mechanisms, such as fossil fuel taxes and removal of fossil fuel subsidies (Box 6.3) and regulatory instruments, are used by many countries as part of their climate policies. In addition, public provision and procurement of low-carbon infrastructure and technologies such as energy-efficient devices, renewable energy, and upgrades in electricity grids through state-sponsored institutions and public-private partnerships have played an important role in low-carbon development (e.g., Baron 2016).