Cross-Chapter Box EXTREMES | Ramifications of Climatic Extremes for Marine, Terrestrial, Freshwater and Polar Natural Systems

Authors: Rebecca Harris (Australia, Chapter 2, CCP3), Philip Boyd (Australia, Chapter 3), Rita Adrian (Germany, Chapter 2), Jörn Birkmann (Germany, Chapter 8), Sarah Cooley (USA, Chapter 3), Simon Donner (Canada, Chapter 3), Mette Mauritzen (Norway, Chapter 3), Guy Midgley (South Africa, Chapter 16); Camille Parmesan (France/USA/UK, Chapter 2), Dieter Piepenburg (Germany, Chapter 13, CCP6), Marie-Fanny Racault (UK/France, Chapter 3), Björn Rost (Germany, Chapter 3, CCP6), David Schoeman (Australia, Chapter 3), Stavana E. Strutz (USA/Chapter 2), Maarten van Aalst (the Netherlands, Chapter 16).
Introduction
Increases in the frequency and magnitudes of extreme events, attributed to anthropogenic climate change by WGI (IPCC, 2021a), are now causing profound negative effects across all realms of the world (marine, terrestrial, freshwater and polar) (medium confidence) (Fox-Kemper et al., 2021; Seneviratne et al., 2021) (Sections 2.3.1, 2.3.2, 2.3.3.5, 2.4.2.2, Chapter 3, Chapters 9–12, this report). Changes to population abundance, species distributions, local extirpations, and global extinctions are leading to long-term, potentially irreversible shifts in the composition, structure and function of natural systems (medium confidence) (Frolicher and Laufkotter, 2018; Harris et al., 2018a; Maxwell et al., 2019; Smale et al., 2019). These effects have widespread ramifications for ecosystems and the services they provide—physical habitat, erosion control, carbon storage, nutrient cycling and water quality—with knock-on effects for tourism, fisheries, forestry and other natural resources (2.4.3, 2.4.4, 2.5.1, 2.5.2, 2.5.3, 2.5.4) (Kaushal et al., 2018; Heinze et al., 2021; Pörtner et al., 2021).
Increasingly, the magnitude of extreme events is exceeding the values projected for mean conditions for 2100, regardless of emissions scenario (Figure Cross-Chapter Box EXTREMES.1). This has collapsed the timeline that organisms and natural communities have to acclimate or adapt to climate change (medium confidence). Consequently, rather than having decades to identify, develop and adopt solutions, actions to build resilience and assist recovery following extreme events are required quickly if they are to be effective.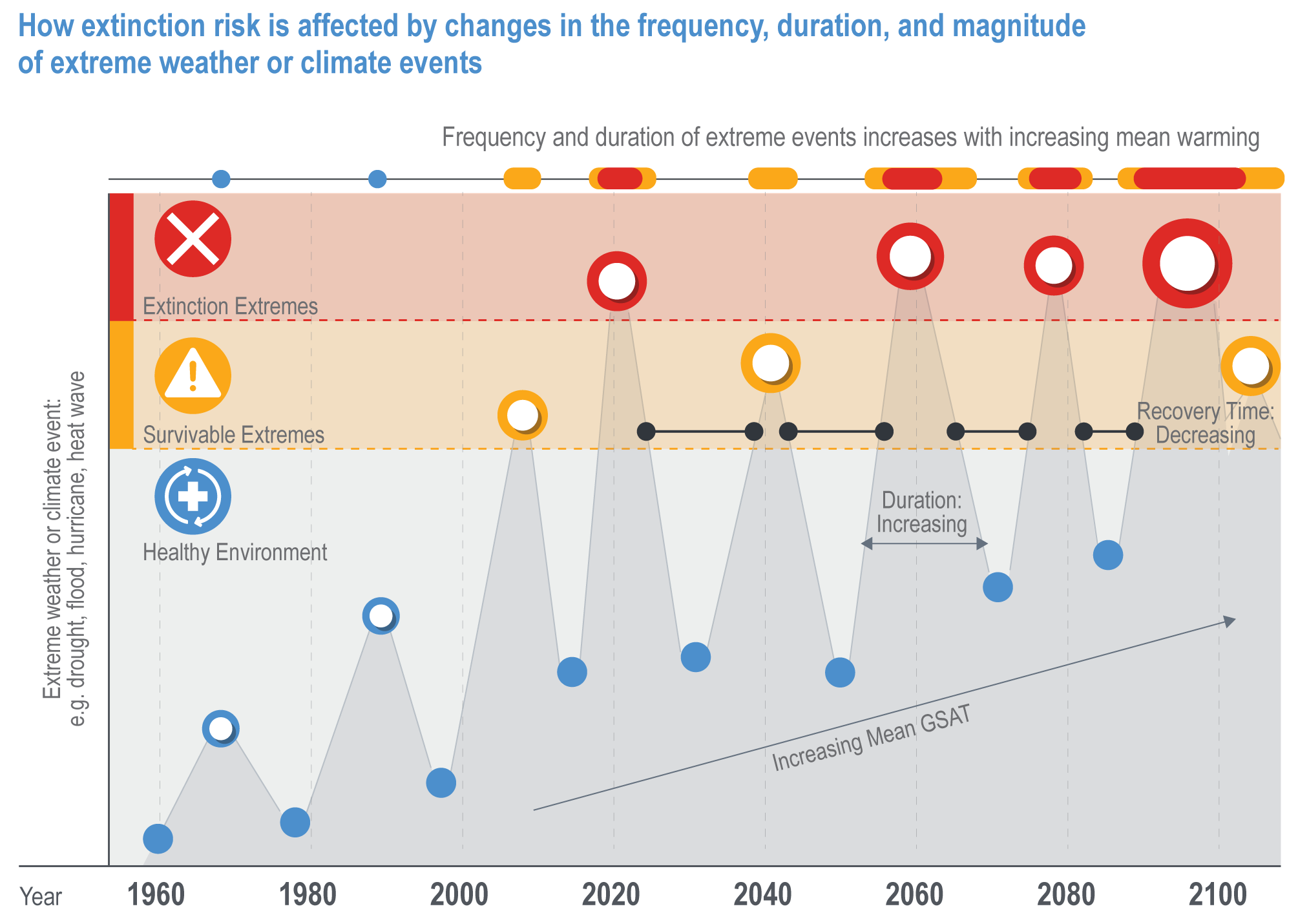 Figure Cross-Chapter Box EXTREMES.1 | A conceptual illustration of how extinction risk is affected by changes in the frequency, duration and magnitude of extreme weather or climate events (e. g,. drought, fire, flood and heat waves). Many organisms have adapted to cope with long- and short-term climate variability, but as the magnitude and frequency of extreme events increases, superimposed on the long-term climate trend, the threshold between survivable extreme weather events (yellow) and extremes that carry a high risk of causing population or species extinctions (red) is crossed more frequently. This can lead to local extinction events with insufficient time between to enable recovery, resulting in long-term, irreversible changes to the composition, structure and function of natural systems. When the extreme event occurs over a large area relative to the distribution of a species (e.g., a hurricane impacting an island which is the only place a given species occurs), a single extreme event can drive the global extinction of a species.
Recent extremes highlight the characteristics that enable natural systems to resist or recover from events, helping natural resource managers to develop solutions to improve the resilience of natural communities and identify the limits to adaptation (Bergstrom et al., 2021).
Marine Heat Waves
Consensus is emerging that anthropogenic climate change has significantly increased the likelihood of recent marine heat waves (MHWs) (medium confidence) (Oliver et al., 2018; Fox-Kemper et al., 2021). A widespread MHW occurred in the northeast Pacific in 2013–2015, with upper ocean temperature anomalies of up to 6.2°C relative to 2002–2012 (Gentemann et al., 2017). This event, termed the 'Blob', enhanced surface water stratification, decreasing nutrient supply, primary and community production and leading to widespread changes to open ocean and coastal ecosystems, with geographical shifts of key species across trophic levels, mass strandings of marine mammals, seabird mortalities and the closure of commercially important fisheries (Cavole et al., 2016; Piatt et al., 2020). The MHW reappeared in 2019 ('Blob 2.0') (Amaya et al., 2020), with similarly high temperature anomalies extending from Alaska to California, but the ecological effects of this event are expected to differ because the Blob originated in winter, and Blob2.0 intensified in summer (Amaya et al., 2020). Modelling suggests rapid shifts in the geographic distributions of important fish species in response to MHWs (Cheung and Frolicher, 2020), with projected decreased biomass and distributional shifts of fish at least four times faster and larger than the effects of decadal-scale mean changes throughout the 21st century under RCP8.5 (high confidence) (Cheung and Frolicher, 2020). MHWs can also dramatically increase CH4 emissions from oceans, a significant positive feedback to global warming (see also Chapter 3, this report) (Borges et al., 2019).
The Arctic region is warming more than twice as fast as the global mean, and polar organisms and ecosystems are likely to be particularly vulnerable to heat waves due to their specific thermal niches and physiological thresholds and also the lack of poleward 'refugia' (high confidence). The consequences of MHWs are exacerbated by concomitant sea ice melting and the freshening of surface waters, leading to secondary effects due to osmotic stress and failing pH homeostasis. Since sea ice-associated organisms are often critical components of polar food chains, cascading effects up to the top predators are expected. In 2015–2016, a MHW occurred in the Gulf of Alaska/Bering Sea (Walsh et al., 2018) which was unprecedented in terms of surface temperatures and ocean heat content, geographical extent, depth range and persistence, impacting the entire marine food web. Persistent warming favoured some phytoplankton species and triggered one of the largest algal blooms recorded in this region, with concomitant oyster farm closures due to uncommon paralytic shellfish-poisoning events (Walsh et al., 2018). There were also massive die-offs of common guillemots (Uria aalge) and puffins (Fratercula cirrhata) , attributed to starvation resulting from warming-induced effects on food supply (Jones et al., 2019). A 2017 survey found a 71% decline in the abundance of Pacific cod (Gadus macrocephalus) since 2015, likely due to an increase in metabolic demand and reduced prey supply during the MHWs (Barbeaux et al., 2020).
Terrestrial Heat Waves
Heat waves are now regularly occurring that exceed the physiological thresholds of some species, including birds and other small endotherms such as flying foxes (high confidence) (Sections 2.4.2.2, 2.4.2.6). Heat waves in Australia, North America and southern Africa have caused mass mortality events due to lethal hyperthermia and dehydration (Saunders et al., 2011; Conradie et al., 2020; McKechnie et al., 2021), reducing fitness (du Plessis et al., 2012; Andrew et al., 2017; Sharpe et al., 2019; van de Ven et al., 2019; van de Ven et al., 2020), breeding success, and recruitment (Kennedy et al., 2013; Wiley and Ridley, 2016; Ratnayake et al., 2019) and affecting daily activity and geographic distributions (Albright et al., 2017). They also place enormous demands on wildlife management agencies and pose risks to human health (Welbergen et al., 2008).
Recent mortality events affected 14 species of bird and fruit bats (Epomophorus wahlbergi) in South Africa when maximum air temperatures exceeded 43–45°C in 2020 (McKechnie et al., 2021). Passerine birds seem more vulnerable to lethal hyperthermia, due to the relative inefficiency of panting to lose heat (McKechnie et al., 2021) and also their small size, as heat tolerance generally increases with body mass (McKechnie et al., 2021). Several mass mortality events of flying foxes (Pteropus poliocephalus, P. alecto) have occurred in eastern Australia when maximum air temperatures exceeded 42° (Welbergen et al., 2008). Nineteen such events occurred between 1994 and 2008, compared to three events prior to 1994. In January 2002, maximum temperatures exceeded the 30-year average mean daily maximum by up to 16.5° and killed >3500 individuals (Welbergen et al., 2008). In 2014, an estimated 45,500 flying foxes died in a single day, when average maximum temperatures were ≥8°C above average (Bureau of Meteorology, 2014). Drought compounds the impacts, as mortality increases when water availability is low (Welbergen et al., 2008; Mo and Roache, 2020; McKechnie et al., 2021).
Antarctica encountered its first recorded heat wave in 2020. Record high temperatures occurred in East Antarctica (Robinson et al., 2020), with a maximum (9.2°) temperature ~7° above the mean maximum, and minimum temperatures > 0°. Record high temperatures (18.3°) were also recorded in West Antarctica (Robinson et al., 2020). It is too soon to know the impact on polar life, but such abrupt heating is expected to have wide-ranging effects on biota, from flash-flooding and dislodgement of plants, to excess meltwater supplying moisture to arid polar ecosystems ( Cross-Chapter Paper 6 Polar). Heat waves in Siberia in 2016, 2018 and 2020, with air temperature anomalies >6°, were associated with extensive wildfires, pest infestations and melting permafrost (Overland and Wang, 2021).
Freshwater Extremes
Heat waves, storms and floods affect the thermal regime and biogeochemical functioning of lakes and rivers (Woolway and Merchant, 2017; Vicente-Serrano et al., 2020). Extreme heat waves lead to abnormally high water temperatures (Till et al., 2019) and reduce the mixing of lakes (Woolway et al., 2021), causing a decrease in oxygen and deep-water oxygen renewal (Zhang et al., 2015). Ectotherms such as fish and invertebrates are particularly susceptible to such temperature and oxygen stress (Stoks et al., 2014). Their metabolic demands increase with rising temperature and a suitable habitat is eroded due to both high temperatures and lower oxygen concentrations in lakes and rivers. Till et al. (2019) attributed 502 fish kill events in the Wisconsin lakes (USA) to warmer summers in lakes that experienced abnormally high water temperatures. Such events are predicted to double by 2041–2059 and increase four-fold by 2081–2099 compared to historical levels (Till et al., 2019). This anticipated increase in die-offs may facilitate warm-water fish species displacing cool-water species (Hansen et al., 2017; Jennings et al., 2021). Floods mobilise nutrients and sediment, and aid dispersal of invasive species in rivers (Death et al., 2015), while drought extremes reduce river connectivity, threatening biodiversity in rivers (section 2.3.3.5) (Tickner et al., 2020).
Learnings from Recent Extremes
These examples show that the impact of an extreme event is a function of its characteristics and those of the exposed ecosystem. The timing, frequency, absolute magnitude and geographic extent of the extreme event, relative to antecedent conditions and the life cycle, resistance and resilience of the natural community, all determine the biological response (Figure Cross-Chapter Box Extremes.1) (Hillebrand et al., 2018; Gruber et al., 2021). The impact appears to be greater when extreme events occur more frequently, particularly when the interval between events is insufficient to allow recovery to previous population sizes (e.g., frequent fires and coral bleaching) or coincides with vulnerable life-cycle stages, even when populations are adapted to cope with such disturbances. Events occurring over large spatial areas reduce the potential for recolonisation from nearby populations (e.g., regional droughts causing widespread declines). Often the magnitude of extreme events exceeds historical levels, so organisms are less likely to be adapted to them, particularly when several extremes coincide (e.g., high water temperature and drought) (Duke et al., 2017). When hazards occur simultaneously (compound events), the impacts of extremes can be substantially aggravated, triggering a cascade of effects in ecosystems (Gruber et al., 2021).
Several characteristics of natural systems are associated with greater vulnerability to extreme events (Figure Cross-Chapter Box EXTREMES.2), knowledge of which can inform solutions to build resilience and aid recovery (Robinson et al., 2020). Resilience can be built prior to an event by minimising additional disturbances, such as water extraction from river systems, pollution of aquatic systems, fragmentation of land and LULCCs. Managing landscapes to reduce fragmentation and increase habitat extent, connectivity and heterogeneity, by increasing the number and extent of reserves, may provide local refugia from extreme events and enhance post-event recolonisation, but may be less effective for marine systems (Section 3.6). Maintaining taxonomic, phylogenetic and functional diversity is important, as more diverse systems may be more stable in the face of disturbances (Pimm, 1984; García-Palacios et al., 2018).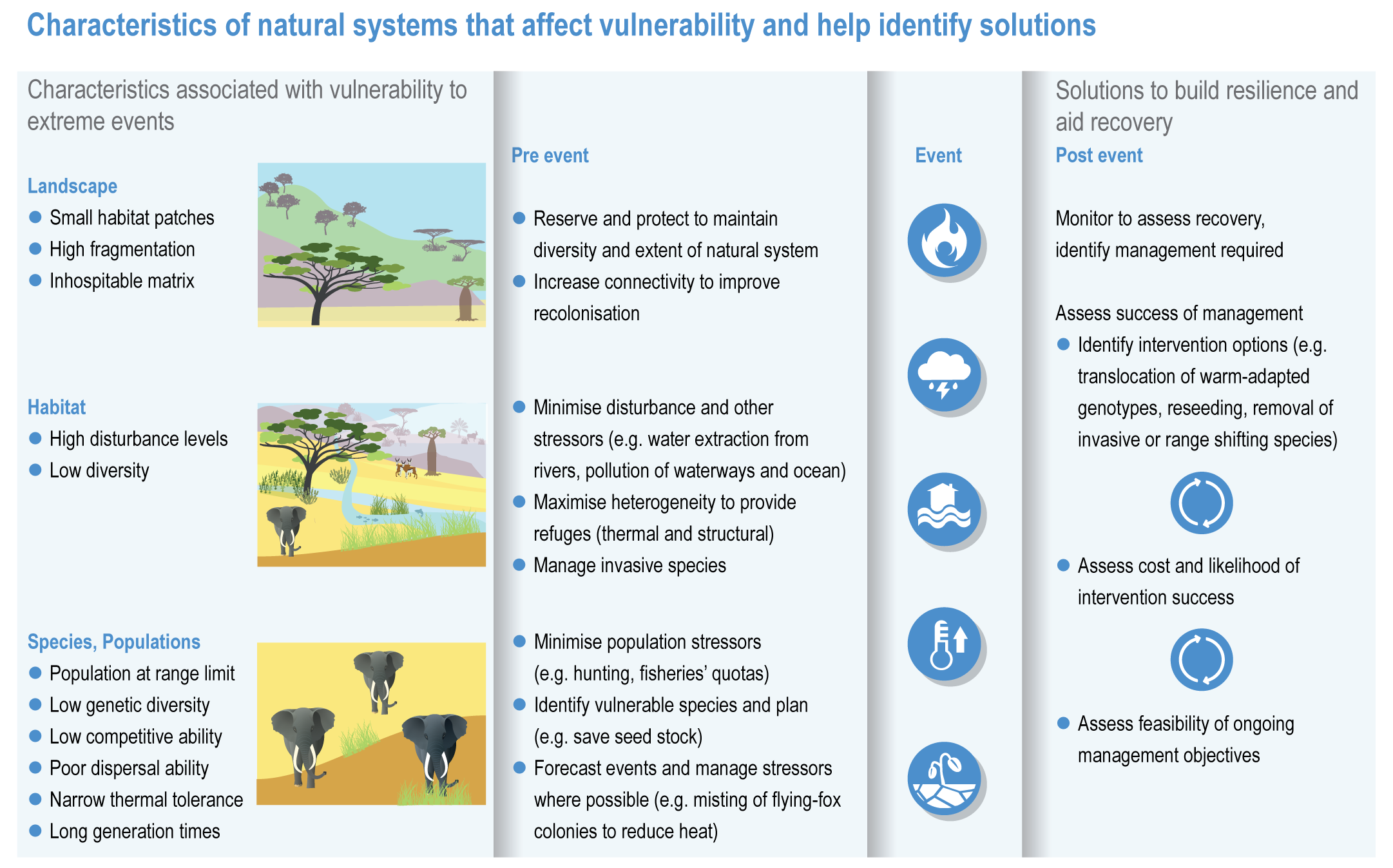 Figure Cross-Chapter Box EXTREMES.2 | Characteristics of natural systems that affect vulnerability and help identify solutions—both prior to and after extreme events—to build resistance, resilience and recovery
Several characteristics increase vulnerability: low or narrow thermal tolerance, high habitat specificity, low dispersal ability, long generation times, low competitive ability and life-cycle constraints that limit recovery or recolonisation. Populations living close to one or more limiting factors near range edges are also vulnerable (Arafeh-Dalmau et al., 2019). Understanding these characteristics can inform management intervention to aid recovery following an extreme event. For instance, knowledge of the flying fox's physiological temperature threshold led to successful interventions, including misting populations to reduce mortality (Mo and Roache, 2020), and the development of a 'heat stress forecaster', an online tool which uses weather forecasts to identify roosts at risk of extreme heat events (Ratnayake et al., 2019). This early warning system increases the preparedness of wildlife management and conservation agencies, enabling efficient allocation of management resources towards the locations that are likely to be the most affected.
Monitoring following extreme events can help identify immediate impacts and the potential for cascading interactions, such as changes to competitive interactions following range shifts, impacts on freshwater ecosystems following wildfires and the spread of invasive species. Ongoing monitoring of recovery and effectiveness of management intervention is important, focussing on habitat-forming species (e.g., kelp, corals and dominant tree species) and keystone species (e.g., filter-feeders, macrophytes and top predators), as the loss of these species can lead to ecosystem tipping points, beyond which the system may not recover (Collins et al., 2019) (Sections 2.5.3; 3.4.4.1; 3.4.4.1.4; chapters 9–15, this report).
The acute impacts of extreme events, in addition to the chronic stress of changing mean conditions, are accelerating and amplifying the biological effects of climate change. This amplification is being observed globally and in all realms where life exists. Extreme events are compressing the timeline available for natural systems to adapt, and impeding our ability to identify, develop and adopt solutions. Recent events highlight the urgent need to mitigate global GHG emissions and identify solutions to halt accelerating impacts on natural systems (Díaz et al., 2020).