Contributing Authors: Pandora Hope (Australia), Wolfgang Cramer (France/Germany), Gregory M. Flato (Canada), Katja Frieler (Germany), Nathan P. Gillett (Canada), Christian Huggel (Switzerland), Jan Minx (Germany), Friederike Otto (United Kingdom/Germany), Camille Parmesan (France, United Kingdom/United States of America), Joeri Rogelj (United Kingdom/Belgium), Maisa Rojas (Chile), Sonia I. Seneviratne (Switzerland), Aimée B.A. Slangen (The Netherlands), Daithi Stone (New Zealand), Laurent Terray (France), Maarten K. van Aalst (The Netherlands), Robert Vautard (France), Xuebin Zhang (Canada)
Introduction
Changes in the climate system are becoming increasingly apparent, as are the climate-related impacts on natural and human systems. Attribution is the process of evaluating the contribution of one or more causal factors to such observed changes or events. Typical questions addressed by the IPCC include: 'To what extent is an observed change in global temperature induced by anthropogenic GHG and aerosol concentration changes, or influenced by natural variability?' and 'What is the contribution of climate change to observed changes in crop yields, which are also influenced by changes in agricultural management?' Changes in the occurrence and intensity of extreme events can also be attributed, addressing questions such as: 'Have human GHG emissions increased the likelihood or intensity of an observed heatwave?'
This Cross-Working Group Box briefly describes why attribution studies are important. It also describes some new developments in the methods used in those studies and provides recommendations for interpretation.
Attribution studies serve to evaluate and communicate linkages associated with climate change, for example: between the human-induced increase in GHG concentrations and the observed increase in air temperature or extreme weather events (AR6 WGI Chapters 3, 10 and 11); or between observed changes in climate and changing species distributions and food production (AR6 WGII Chapters 2 and others, summarized in WGII Chapter 16; e.g., Verschuur et al., 2021); or between climate change mitigation policies and atmospheric GHG concentrations (AR6 WGI Chapter 5; AR6 WGIII Chapter 14). As such, they support numerous statements made by the IPCC (AR6 WGI Section 1.3 and Appendix 1A; IPCC, 2013b, 2014b).
Attribution assessments can also serve to monitor mitigation and assess the efficacy of applied climate protection policies (AR6 WGI Section 4.6.3; e.g., Nauels et al., 2019; Banerjee et al., 2020), inform and constrain projections (WGI Section 4.2.3; Gillett et al., 2021; Ribes et al., 2021) or inform the loss and damages estimates and potential climate litigation cases by estimating the costs of climate change (Huggel et al., 2015; Marjanac et al., 2017; Frame et al., 2020). These findings can thus inform mitigation decisions as well as risk management and adaptation planning (e.g., CDKN, 2017).
Steps towards an attribution assessment
The unambiguous framing of what changes are being attributed to what causes is a crucial first step for an assessment (Easterling et al., 2016; Hansen et al., 2016; Stone et al., 2021), followed by the identification of the possible and plausible drivers of change and the development of a hypothesis or theory for the linkage (Cross-Working Group Box: Attribution, Figure 1). The next step is to clearly define the indicators of the observed change or event and note the quality of the observations. There has been significant progress in the compilation of fragmented and distributed observational data, broadening and deepening the data basis for attribution research (WGI Section 1.5; e.g., Poloczanska et al., 2013; Ray et al., 2015; Cohen et al., 2018). The quality ofthe observational record of drivers should also be considered (e.g., volcanic eruptions: WGI Section 2.2.2). Impacted systems also change in the absence of climate change; this baseline and its associated modifiers – such as agricultural developments or population growth – need to be considered, alongside the exposure and vulnerability of people depending on these systems.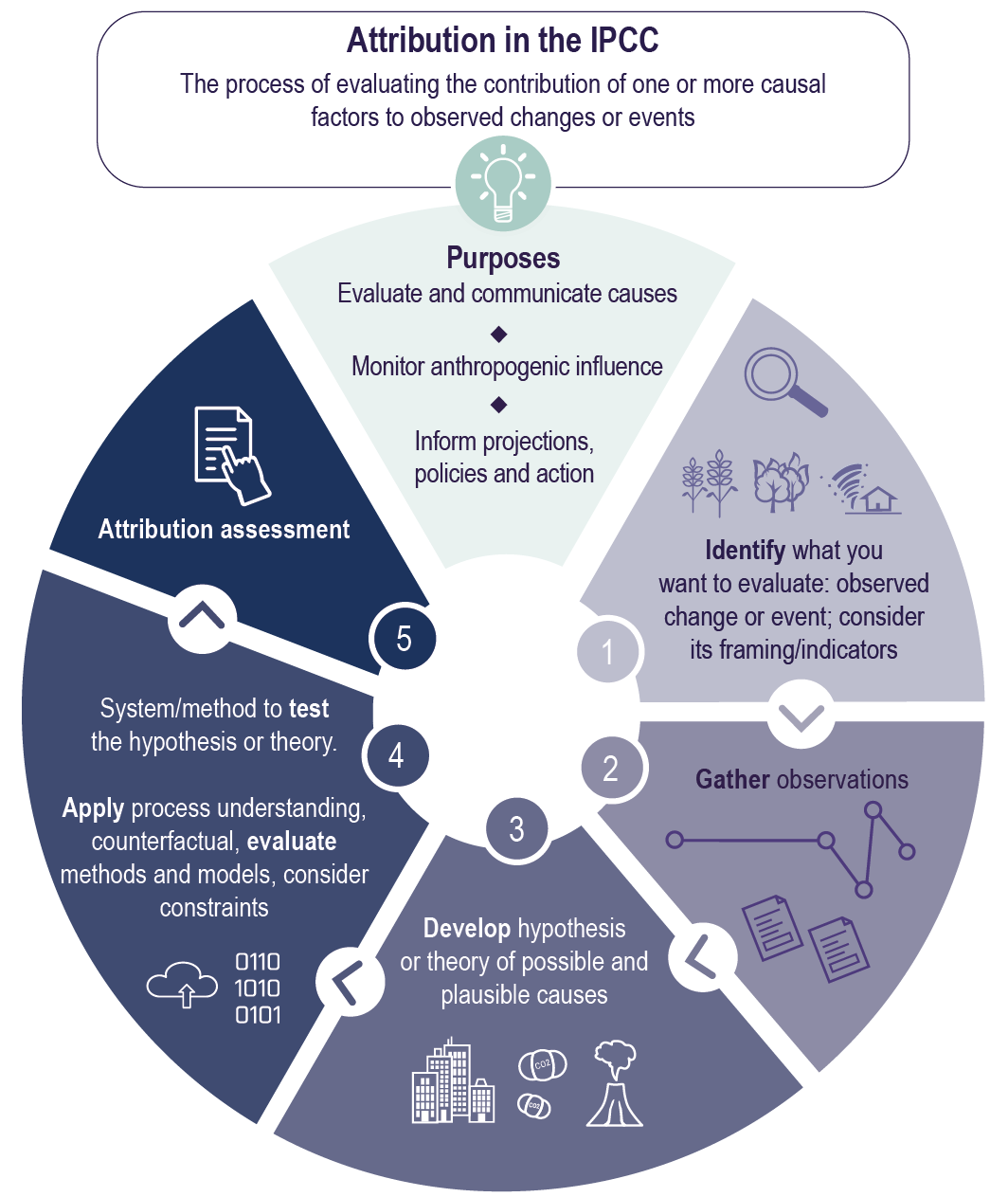 Cross-Working Group Box: Attribution, Figure 1 | Schematic of the steps to develop an attribution assessment, and the purposes of such assessments. Methods and systems used to test the attribution hypothesis or theory include: model-based fingerprinting; other model-based methods; evidence-based fingerprinting; process-based approaches; empirical or decomposition methods; and the use of multiple lines of evidence. Many of the methods are based on the comparison of the observed state of a system to a hypothetical counterfactual world that does not include the driver of interest to help estimate the causes of the observed response.
There are many attribution approaches, and several methods are detailed below. In physical and biological systems, attribution often builds on the understanding of the mechanisms behind the observed changes and numerical models are used, while in human systems other methods of evidence-building are employed. Confidence in the attribution can be increased if more than one approach is used and the model is evaluated as fit-for-purpose (WGI Section 1.5, WGI Section3.8, WGI Section 10.3.3.4; Hegerl et al. , 2010; Vautard et al. , 2019; Otto et al. , 2020; Philip et al. , 2020). The final step includes appropriate communication of the attribution assessment and the accompanying confidence in the result (e.g., Lewis et al., 2019).
Attribution methods
Attribution of changes in atmospheric greenhouse gas concentrations to anthropogenic activity
The AR6 WGI Chapter 5 presents multiple lines of evidence that unequivocally establish the dominant role of human activities in the growth of atmospheric CO2, including through analysing changes in atmospheric carbon isotope ratios and the atmospheric O2–N2ratio (WGI Section 5.2.1.1). Decomposition approaches can be used to attribute emissions underlying those changes to various drivers such as population, energy efficiency, consumption or carbon intensity (Hoekstra and van den Bergh, 2003; Raupach et al., 2007; Rosa and Dietz, 2012). Combined with attribution of their climate outcomes, the attribution of the sources of GHG emissions can inform the attribution of anthropogenic climate change to specific countries or actors (Matthews, 2016; Otto et al., 2017; Skeie et al., 2017; Nauels et al., 2019), and in turn inform discussions on fairness and burden sharing (WGIII Chapter 14).
Attribution of observed climate change to anthropogenic forcing
Changes in large-scale climate variables (e.g., global mean temperature) have been reliably attributed to anthropogenic and natural forcings (WGI Section 1.3.4; e.g., Hegerl et al., 2010; Bindoff et al., 2013). The most established method is to identify the 'fingerprint' of the expected space-time response to a particular climate forcing agent such as the concentration of anthropogenically induced GHGs or aerosols, or natural variation of solar radiation. This technique disentangles the contribution of individual forcing agents to an observed change (e.g., Gillett et al., 2021). New statistical approaches have been applied to better account for internal climate variability and the uncertainties in models and observations (WGI Section 3.2; e.g., Naveau et al. , 2018; Santer et al. , 2019). There are many other approaches, for example, global mean sea level change has been attributed to anthropogenic climate forcing by attributing the individual contributions from, for example, glacier melt or thermal expansion, while also examining which aspects of the observed change are inconsistent with internal variability (WGI Sections 3.5.2 and 9.6.1.4).
Specific regional conditions and responses may simplify or complicate attribution on those scales. For example, some human forcings, such as regional land-use change or aerosols, may enhance or reduce regional signals of change (WGI Sections 10.4.2, 11.1.6 and 11.2.2; Lejeune et al. , 2018; Undorf et al. , 2018; Boé et al. , 2020; Thiery et al. , 2020). In general, regional climate variations are larger than the global mean climate, adding additional uncertainty to attribution (e.g., in regional sea level change, WGI Section 9.6.1). These statistical limitations may be reduced by 'process-based attribution', focusing on the physical processes known to influence the response to external forcing and internal variability (WGI Section 10.4.2).
Attribution of weather and climate events to anthropogenic forcing
New methods have emerged since AR5 to attribute the change in likelihood or characteristics of weather or climate events or classes of events to underlying drivers (WGI Sections 10.4.1 and 11.2.2; NA SEM, 2016; Stott et al. , 2016; Jézéquel et al. , 2018; Wehner et al. , 2018; Wang et al. , 2021). Typically, historical changes, simulated under observed forcings, are compared to a counterfactual climate simulated in the absence of anthropogenic forcing. Another approach examines facets of the weather and thermodynamic status of an event through process-based attribution (WGI Chapter 11 and Section 10.4.1; Hauser et al. , 2016; Shepherd et al. , 2018; Grose et al. , 2019). Events where attributable human influence have been found include hot and cold temperature extremes (including some with widespread impacts), heavy precipitation, and certain types of droughts and tropical cyclones (AR6 WGI Section 11.9; e.g., Vogel et al., 2019; Herring et al., 2021). Event attribution techniques have sometimes been extended to 'end-to-end' assessments from climate forcing to the impacts of events on natural or human systems (Otto, 2017).
Attribution of observed changes in natural or human systems to climate-related drivers
The attribution of observed changes to climate-related drivers across a diverse set of sectors, regions and systems is part of each chapter in the WGII contribution to AR6 and is synthesized in WGII Chapter 16 (Section 16.2). The number of attribution studies on climate change impacts has grown substantially since AR5, generally leading to higher confidence levels in attributing the causes of specific impacts. New studies include the attribution of changes in socio-economic indicators such as economic damages due to river floods (e.g., Schaller et al., 2016; Sauer et al., 2021), the occurrence of heat-related human mortality (e.g., Vicedo-Cabrera et al., 2018; Sera et al., 2020) or economic inequality (e.g., Diffenbaugh and Burke, 2019).
Impact attribution covers a diverse set of qualitative and quantitative approaches, building on experimental approaches, observations from remote sensing, long-term in situ observations, and monitoring efforts, teamed with local knowledge, process understanding and empirical or dynamical modelling (WGII Section 16.2; Stone et al., 2013; Cramer et al., 2014). The attribution of a change in a natural or human system (e.g., wild species, natural ecosystems, crop yields, economic development, infrastructure or human health) to changes in climate-related systems (i.e., climate, ocean acidification, permafrost thawing or sea level rise) requires accounting for other potential drivers of change, such as technological and economic changes in agriculture affecting crop production (Hochman et al., 2017; Butler et al., 2018), changes in human population patterns and vulnerability affecting flood- or wildfire-induced damages (Huggel et al., 2015; Sauer et al., 2021), or habitat loss driving declines in wild species (IPBES, 2019). These drivers are accounted for by estimating a baseline condition that would exist in the absence of climate change. The baseline might be stationary and be approximated by observations from the past, or it may change over time and be simulated by statistical or process-based impact models (WGII Section 16.2; Cramer et al. , 2014). Assessment of multiple independent lines of evidence, taken together, can provide rigorous attribution when morequantitative approaches are not available (Parmesan et al., 2013). These include paleodata, physiological and ecological experiments, natural 'experiments' from very long-term datasets indicating consistent responses to the same climate trend/event, and 'fingerprints' in species' responses that are uniquely expected from climate change (e.g. poleward range boundaries expanding and equatorial range boundaries contracting in a coherent pattern worldwide; Parmesan and Yohe, 2003). Meta-analyses of species/ecosystem responses, when conducted with wide geographic coverage, also provide a globally coherent signal of climate change at an appropriate scale for attribution to anthropogenic climate change (Parmesan and Yohe, 2003; Parmesan et al., 2013).
Impact attribution does notalways involve attribution to anthropogenic climate forcing. However, a growing number of studies include this aspect (e.g., Frame et al. (2020) for the attribution of damages induced by Hurricane Harvey; or Diffenbaugh and Burke (2019) for the attribution of economic inequality between countries; or Schaller et al. (2016) for flood damages).