Cross-Chapter Box Atlas.2 | Climate information relevant to water resources in Small Islands

Coordinators: Tannecia Stephenson (Jamaica), Faye Abigail Cruz (The Philippines)
Contributors: Donovan Campbell (Jamaica), Subimal Ghosh (India), Rafiq Hamdi (Belgium), Mark Hemer (Australia), Richard G. Jones (United Kingdom), James Kossin (United States of America), Simon McGree (Australia/Fiji), Blair Trewin (Australia), Sergio M. Vicente-Serrano (Spain)
Constructing regional climate information for Small Islands involves synthesis from multiple sources. This cross-chapter box presents information relevant to water resources, drawing on several chapters in AR6 and Atlas.10. It introduces the context and current evidence base followed by an assessment of trends and projections in rainfall, temperature and sea levels across Small Islands and it highlights key findings.
Cross-Chapter Box Atlas.2
Regional context
Small Islands are predominantly located in the Pacific, Atlantic and Indian oceans, and in the Caribbean (Nurse et al., 2014; Shultz et al., 2019). They are characterized by their small physical size, being surrounded by large ocean expanses, vulnerability to natural disasters and extreme events, and relative isolation (Section 12.4.7, Atlas.10 and Glossary; Nurse et al., 2014). These and nearby larger islands (e.g., Madagascar and Cuba) are often water-scarce with low water volumes due to increasing demand (from population growth and tourism), aging and poorly designed infrastructure (Burns, 2002), and decreasing supply (from pollution, changes in precipitation patterns, drought, saltwater intrusion, regional sea level rise, inadequate water governance (Belmar et al., 2016; Mycoo, 2018) and competing and conflicting uses (Section 8.1.1.1; Cashman, 2014; Gheuens et al., 2019). In the Caribbean, groundwater is the main freshwater source and depends strongly on rainfall variability (Post et al., 2018), while rain, ground or surface water are the primary sources for the Pacific Islands depending on island type (volcanic or atoll), size and quality of groundwater reserves (Burns, 2002). Groundwater pumping and increasing sea levels also affect water availability by increasing the salinity of the aquifer (e.g., Bailey et al., 2015, 2016), thus reinforcing negative drought effects from reduced rainfall and increased evaporative demand from higher temperatures. For example, in 54% of the Marshall Islands, groundwater is highly vulnerable to droughts (Barkey and Bailey, 2017).
The climate of Small Islands and findings from previous IPCC assessments
Intra-seasonal to interannual rainfall in the Caribbean and in the Indian and Pacific oceans is influenced by the trade winds, the passage of tropical cyclones (TCs), Madden–Julian Oscillation (MJO), easterly waves, migrations of the Inter-tropical Convergence Zone (ITCZ) and the North Atlantic Subtropical High (NASH) for the Caribbean; the South Pacific Convergence Zone (SPCZ) and western North Pacific summer monsoon for the Pacific; and the South Asian monsoons for the Indian Ocean. The relevant dominant modes of climate variability (Section 8.3.2.9 and Annex IV) are El Niño–Southern Oscillation (ENSO) and the Indian Ocean Dipole (IOD) which have been associated with extreme events in the islands (Annex IV; Stephenson et al., 2014; Kruk et al., 2015; Frazier et al., 2018). The modes of climate variability are modulated by Pacific Decadal Variability (PDV), Inter-decadal Pacific Oscillation (IPO) and Atlantic Multi-decadal Variability (AMV). These modes show no sustained trend since the late 19th century (high confidence) (Section 2.4).
The AR5 WGI reports observed temperature increases of 0.1°C–0.2°C per decade in the Pacific Islands with these trends very likely to continue under high emissions, and projects a drier rainy season for many islands in the south-west Pacific (Christensen et al., 2013). The AR5 WGII reports rainfall reductions over the Caribbean, increases over the Seychelles, streamflow reductions over the Hawaiian Islands and saltwater intrusion into groundwater reserves in the Pacific Islands resulting from storm surges and high tides (Nurse et al., 2014). The SROCC (IPCC, 2019a) finds very high confidence that global mean sea level rise has accelerated in recent decades which has exacerbated extreme sea level events and flooding (high confidence). It will continue to rise with consequent increases in extreme levels so that the historical one-in-a-century extreme local sea level will become an annual event by the end of the century under all RCP scenarios (high confidence). In particular, many Small Islands are projected to experience historical centennial events at least annually by 2050 under RCP2.6, RCP4.5 and RCP8.5 emissions. The proportion of Category 4 and 5 TCs and associated precipitation rates along with their average intensity are projected to increase with a 2°C global temperature rise which will further increase the magnitude of resultant storm surges and flooding. The SROCC Cross-Chapter Box on Low-lying Islands and Coasts (Magnan et al., 2019) focused on sea level rise and oceanic changes and their impacts, therefore the assessment presented here on climate changes relevant to water resources, including precipitation and temperature, is complementary.
Observations and attribution of changes
Cross-Chapter Box Atlas.2: presents an overview of observed sub-regional trends relevant to water resources in some Small Islands and island regions largely from 1951. Some general observed climate trends include higher magnitude and frequency of temperatures including warm extremes (high confidence) (Section 12.4.7.1, Table 11.13 and Atlas.10.2), declines in high-intensity rainfall events (low to medium confidence) (Table 11.14), regional sea level rises with strong storm surges and waves resulting in increased coastal flood intensity (high confidence) (Section 12.4.7.4 and Atlas.10.2), and increased intensity and intensification rates of tropical cyclones at global scale (medium confidence) (Sections 11.7.1.2 and 12.4.7.3) and ocean acidification (virtually certain) (Chapters 2, 6 and 9, and Atlas.3.2).
No significant long-term trends are observed for annual Caribbean rainfall over the 20th century (low confidence) (Atlas.10.2). Over the western Pacific, generally decreasing but non-significant trends are noted in annual total rainfall from 1961 to 2011 (low confidence) (Atlas.10.2). June–July–August (JJA) rainfall over the Caribbean shows some drying tendencies that may be linked to the combined effect of warm ENSO events and a positive NAO phase (Giannini et al., 2000; Méndez-Lázaro et al., 2014; Fernandes et al., 2015), or to warm ENSO events and a positive PDV (Maldonado et al., 2016). However, the work of Herrera et al. (2018) suggests that anthropogenic influences may also be possible, although mechanisms proposed to date have not decoupled the influence of anthropogenic trends from natural decadal variability (Vecchi et al., 2006; Vecchi and Soden, 2007; DiNezio et al., 2009).
Cross-Chapter Box Atlas.2
Cross-Chapter Box Atlas.2, Table1 | Summary of observed trends for Small Island regions. SLR = sea level rise; TC = tropical cyclone; SPCZ = South Pacific Convergence Zone.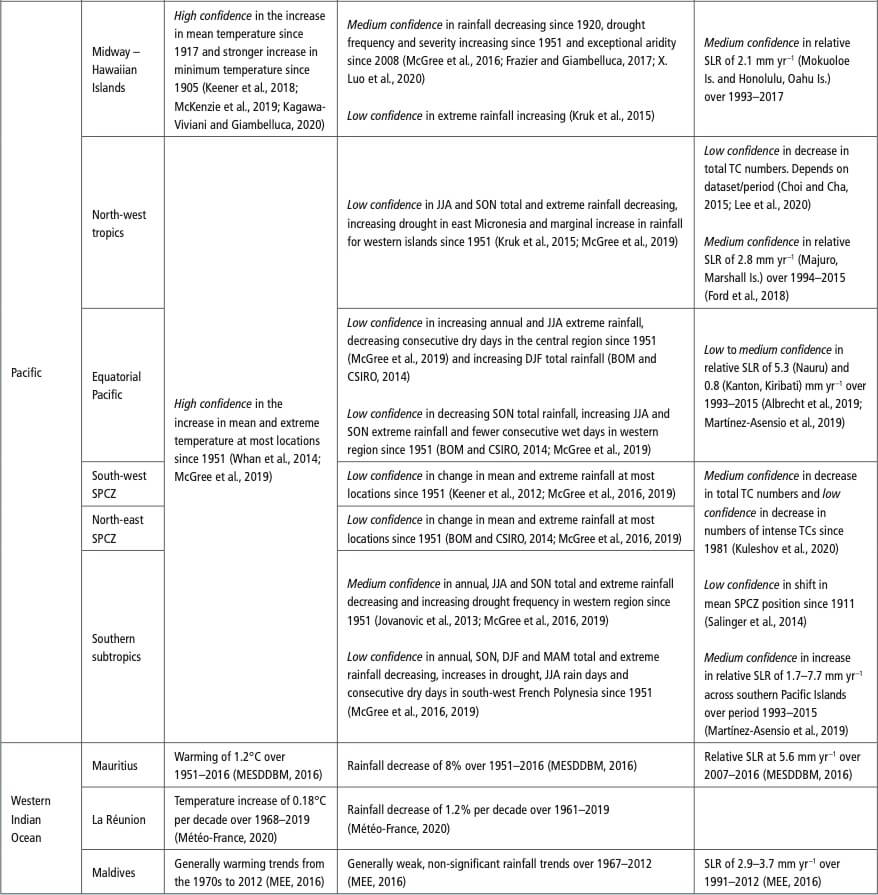 Cross-Chapter Box Atlas.2
Southern Hemisphere subtropical Pacific June–November drying has been associated with intensification of the subtropical ridge and associated declines in baroclinicity (Whan et al., 2014). Austral summer drying in the south-west French Polynesia sub-region has been linked with increased greenhouse gas and ozone changes (Fyfe et al., 2012). The Southern Hemisphere jet stream has likely shifted polewards (Section 2.3.1.4.3) which is attributed largely to a trend in the Southern Annular Mode (Section 3.7.2).
These assessments are constrained by limited availability of observational datasets and of scientific studies. Assessment of observed climate change for Small Islands is often constrained by low station density (Ryu and Hayhoe, 2014; P.D. Jones et al., 2016 a), short periods of record, digitization requirements or data-sharing limitations (P.D. Jones et al., 2016 a), availability of metadata (McGree et al., 2014; Stephenson et al., 2014; P.D. Jones et al., 2016 b), challenges in some gridded product representations of variability, for example, for complex topography (Frazier and Giambelluca, 2017), and challenges characterizing the impact of vertical land motion on sea level rise (Atlas.10.2; Wöppelmann and Marcos, 2016).
Information on future climate changes
Small Islands will very likely continue to warm this century, though at a rate less than the global average (Figure Atlas.28), with consequent increased frequency of warm extremes for the Caribbean and western Pacific islands, and heatwave events for the Caribbean (high confidence) (Table 11.13). Annual and JJA rainfall declines are likely for some Indian and southern Pacific ocean regions with drying over southern French Polynesia (attributed partially to greenhouse gas increases) and farther east clearly evident in CMIP5 and CMIP6 projections (high confidence) (Figure Atlas.28). See also Section Atlas.10.4.
Rainfall is very likely to decline over the Caribbean, in the annual mean and especially in JJA, with a stronger and more coherent signal in CMIP6 compared to CMIP5 (Figure Atlas.28 and Interactive Atlas) and reductions of 20–30% by the end of the century under high future emissions (SSP5-8.5). This JJA drying has been linked to a future strengthening of the Caribbean low level jet (CLLJ) (Taylor et al., 2013a), a westward expansion and intensification of the NASH, stronger low-level easterlies over the region, a southwardly-placed eastern Pacific ITCZ (Rauscher et al., 2008), and changing dynamics due to increased greenhouse gas concentrations (very high confidence) (W. Li et al., 2012 ). Projections from 15 GCM and two RCM experiments for 2080–2089 relative to 1970–1989 were for a generally drier Caribbean and a robust summer drying (Karmalkar et al., 2013). More recent downscaling studies (e.g., Taylor et al., 2018; Vichot-Llano et al., 2021a) also project a drier Caribbean and longer dry spells (Van Meerbeeck, 2020).
Sea level rise is very likely to continue in all Small Island regions (Sections 9.6.3.3 and 12.4.7.4, and Figure Atlas.28) and its effects will be compounded by TC surge events. In general, the most intense TCs are likely to intensify and produce more flood rains with warming, however detailed effects of climate change on TCs will vary by region (Section 11.7.1; Knutson et al., 2019). Bailey et al. (2016) projected a 20% decline in groundwater availability by 2050 in coral atoll islands of the Federated States of Micronesia and stressed that under higher sea level rises the decrease could be higher than 50% due to marine water intrusion into aquifers, as well as drought events.
Summary of information distilled from multiple lines of evidence
It is very likely that most Small Islands have warmed over the period of instrumental records. The clearest precipitation trend is a likely decrease in JJA rainfall over the Caribbean since 1950. There is limited evidence and low agreement for the cause of the observed drying trend, whether it is mainly caused by decadal-scale internal variability or anthropogenic forcing, but it is likely that it will continue over coming decades. It is likely that drying has occurred since the mid-20th century in some parts of the Pacific poleward of 20° latitude in both the Northern Hemisphere and the Southern Hemisphere and that these changes will continue over coming decades. Rainfall trends in most other Pacific Ocean and Indian Ocean Small Islands are mixed and largely non-significant. It is very likely that sea levels will continue to rise in all Small Island regions, and this will result in increased coastal flooding with the potential to increase saltwater intrusion into aquifers in Small Islands.
Whilst this assessment demonstrates that the climate of Small Islands has and will continue to change in diverse ways, constructing climate information for Small Islands is challenging. This is due to observational issues, incomplete understanding of some modes of variability and their representation by climate models and the lack of availability of large ensembles of regional climate model simulations and limited studies to decouple internal variability and anthropogenic influences.